Introduction
I got an invite from the Imperial Stars in Germany for their Cruise-In weekend which I ended up accepting. Initially it was just going to be a long weekend to Germany and back, but then I thought that I hadn't visited Castle Newswanlake (Burg Neuschwanstein) yet.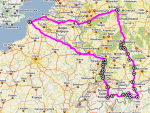 Looking on the map it wasn't quite on the route, so I turned the long weekend into a week and with the help of fellow Great Bear and co-traveller Stu fleshed out the trip. The planned route can be viewed here:
The current plan is to head off early on Monday morning, meet up with Stu at Folkestone, and get the Channel Tunnel over to Calais. From there we'll head off on our route, aiming to get to the Party on Friday afternoon.
---
Monday 2008.06.16

Day 1 - From London to Metz

A busy and early start to the day saw me finishing packing up the bike and then saying good-bye to my uncle and aunt who were visiting me in London. Then it was off to Canterbury to drop Dana off at Uni and meeting up with Stu who had stayed the night in the local Traveloge.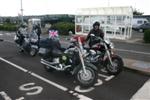 A quick fuel-up at the Traveloge and then the short run down to the Euro Tunnel where we rather unexpectedly had to cough up £72 for a one-way ticket to Calais - we had expected at worst about £50. No matter, the train ride was a novel experience and we had a couple of other bikers to chat to on the way. It's pretty nifty riding down through the train which ends up being a long square tunnel.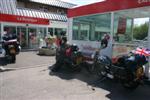 Safely arrived in Calais we took off onto the motorway and headed south-eastwards into France. The day was scheduled to be a boring run to try to eat as many of the miles as possible and it didn't disappoint in that respect. The french countryside is nice enough with long rolling hills, but motorway travel isn't very inspiring. On the upside the weather stayed nice - mostly cloudy with some sunny breaks.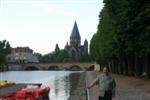 Our second fuel-stop of the day had us deciding to stop, so we picked a hotel at the next-closest city which happened to be Metz. With GPS it becomes a piece of cake getting into a strange city and finding the hotel! Metz itself turned out to be a rather picturesque little city build on the banks of the Moselle with a grand cathedral and a Temple Neuf build right out into the river Moselle. We spent a bit of time wandering through the streets before finding a tiny little restaurant on the waterfront in a hidden little alley where we had dinner - smoked duck breast salad and a salmon 'tartini' (which ended up just being a fancy toast!).
---
Tuesday 2008.06.17

Day 2 - From Metz to Schluchsee

A reasonable continental-style breakfast awaited us in the morning into which we tucked before setting off again. The first half of the day consisted again primarily of rather uninspiring motorways but at least the weather was pretty good - nice and sunny with some clouds.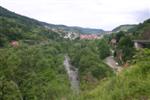 Unfortunately by the time we crossed into Germany the weather had settled into a grim overcast with occasional spats of rain. At least that meant that the Black Forest carried its name in style! Once off the darned motorways the riding definitely took a turn for the better with nice twisty roads leading up into the rather picturesque mountains of the Black Forest.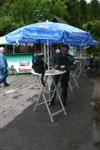 The rest of the day consisted of enjoying the scenery although unfortunately the weather stayed poor. We had lunch at a take-away stand at the Mummelsee at over 1000m altitude! This consisted of Maultaschen with potatoe salad and a slice of Leberkäse. To wash it all down, a beer, of course!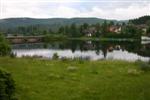 We finally decided to call it a day when we got to Schluchsee - just as well because as soon as we had checked in to Pension "Am See" it started pouring down with rain. This didn't last too long however, and we took a nice stroll up into the village and found a restaurant for dinner. This consisted of potatoe and cream soup, a schnitzel, and fresh strawberry cake with whipped cream. Very nice!
Wednesday 2008.06.18

Day 3 - From Schluchsee to Nauder

The day dawned beautifully, washing away the poor nights' sleep I'd had (not due to the place!). After a breakfast of fresh german breadrolls we saddled up and off we went towards Switzerland and the Alps. We crossed the border at Koblenz - quite a queue! - and from there decided to take the fast way across the highways until after Zürich. Downtown Zürich, incidentally, is a place to miss, based on what we saw. The weather had also been getting steadily worse and had degenerated into rain showers. Bleh.

After Zürich, however, the weather started to improve as did the scenery, especially after Schwyz where, coming out of a tunnel, we were greeted with a picture-postcard scene of sheer mountains dropping into a still mountain lake, with villages nestled on the slopes. This is Ulmer See, gorgeous!

Another short motorway stint, and then finally up into the real mountains after Göschenen. The road was a vertigo-inducing series of switchbacks up a steep mountain, after which we arrived at Andermatt at an altitude of about 1400m where we had lunch.

From there we kept climbing up to the Oberalp at just over 2000m altitude with breathtaking scenery along the way. Progress was slow as we stopped at just about every second corner, it would be very easy to spend days on this road!

Our next brief stop was at Tamins, mostly to recoinnoiter the maps and have an ice-cream. We decided to cut through the low country with another short highway stint (we were down to about 600m by now) and get back up into the lovely high country. At Landquart we turned off again and back into the mountains although it didn't get truly spectacular again until after Davos - perhaps we were already getting acclimatised to the jaw-dropping suroundings.

The high point of the day was Flüelapass at just shy of 2400m. There was snow still everywhere and the lake behind the Hotel/restaurant was still mostly frozen. We enjoyed a cup of coffee before heading down the other side of the mountains. Time was getting on and we started looking for accomodation, which we eventually found at Nauder in Austria.
---
Thursday 2008.06.19

Day 4 - From Nauder to Herdweg (Schwangau)

The morning dawned bright and beautiful with promise of fresh alpine scenery. After another big breakfeast and a fuel stop we headed off to Italy which was only a few miles down the road.

The first impressions were of great scenery - initially a small mountain lake with attendant picturesque village followed by a great drop into a huge valley, stunning. From there it turned comparatively mundane though, with heavier traffic and uninspiring roads winding along one side of the large break in the mountains.

After Merano we started the incredible climb up to Timmensjoch - over 2000m with some of the most spectacular views we had seen so far. Mountain peaks towering up above the narrow valleys with gushing rivers far below. About half-way up we stopped for a quick drink and decided we might as well have a short lunch while we were there - unfortunately the service turned it into a long lunch.

From there the road went very steep with hairpin turns well deserving their name. The pass itself was uninspiring, the scenery from the top however was fantastic. Instead of a normal pass between a couple of mountains this one consisted of a tunnel breaking through the very top of the mountainrange through to the Austrian alps. On this side the road crawled along the top of the mountainrange with dizzying drops into the valley but with easier turns.

An unexpected view was the toll-booth on the border to Austria where we had to pay 11 Euros to pass. As turning back was out of the question this left us with little choice but to pay. Beyond the toll-booth we were treated to another spectacular view which required yet another short photo-stop. After this we swept down into the valley through a series of 11 hairpins and mostly sweeping roads, a fantastic high-speed ride down.

Traffic picked up steadily from here on taking a lot of the enjoyment of the roads with it. At one point we had to stop for 10 minutes waiting for a work-crew to clear loose boulders from the overhanging mountain sides. One last impressive glimpse was of the Zugspitze before we finally left the alps behind for good and turned our attention towards Schwangau and Schloss Neuschwanstein.

We arrived in the late afternoon so didn't get tickets for the castle tour but still got a very good view of the castle perched atop its outcropping after we caught a bus up to the ??? bridge rather than walking up. We did however walk down to the castle for more photos but then took up the discounted horse-buggy ride back to town instead of walking back.

Only a few miles from Schwangau we found our hotel for the night and got an excellent dinner with some good Dunkelbier to wash it down.
---
Friday 2008.06.20

Day 5 - From ?? to ??
---
Saturday 2008.06.21

Day 6 - Bikerfest
---
Sunday 2008.06.22

Day 7 - From ?? to ??
---