Introduction
With my mum in Europe again, we decided to spend a week or so travelling around the Czech Republic, as I had no interest sitting around in Germany, and mum had already seen quite a lot of England. So the idea came for both of us to meet up in Prague and take things from there.
Following then, is an account of our adventures; you can see the pictures here.
---
Day 1 - Saturday 2006.04.29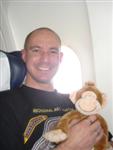 Saturday was arrival day. I was first, organised a hire car at the airport, and then went into Prague to take a first peek around. Unfortunately the weather turned a bit nasty but that was the perfect excuse to find a nice warm eatery and try some of the local food, which was fantastic!
After lunch I headed back to the airport, picked up mum and the car, and then we headed off towards our first destination - a hotel high up in the "Giant Mountains" in the north of the Czech Republic. The drive took much longer than expected, partially due to the local roads, and partially due to the interesting route which our GPS decided to plot for us, so we didn't arrive at the hotel till late in the evening. Nevertheless the staff were extremely helpful (one guy had even been learning english to talk to us!) and provided us with dinner. I even managed to get in a sauna before bedtime - bliss!
---
Day 2 - Sunday 2006.04.30

The next day dawned with - snow of all things! This threw our plans a bit awry as we had wanted to go hiking. Instead we decided to head towards the nearby Boskov Dolomite caves and see how things progress. The caves themselves were pretty decent with some neat stalactites and stalacmites and other formations, so not a wasted morning at all.

As the weather in the mountains still wasn't too fantastic we decided to head further south and back towards the lowlands where our next stop were the Prachovské Skály rock formations. Nearby we even found a small hotel, almost a B&B, where we checked in and had a quick late lunch/early dinner. Then it was off on a hike to the rock formations.

The Prachovské Skály consists of tall free-standing rock towers rising out of a pine forest, and are truly awe-inspiring. A sign-posted walk takes one around the area, at times even through or onto the rock towers! So being more or less fit definitely helps, and the palačinky (Czech pancakes with jam) we had earlier weren't helping!

Tired out but with memories of the wonderful sights of the day still fresh in our minds we wandered back to our hotel through the peaceful Czech landscape. We had another hearty Czech dinner followed by more palačinky before heading to bed, ready for more adventures on the morrow!
---
Day 3 - Sunday 2006.05.01

After a delicious breakfast we headed to Trosky Castle which we had seen from the road the day before. It consists of two towers, each built on a separate volcanic base, connected by a walled area and looks very impressive from a distance. From up top one gets an awesome view of the surrounding area.

After the castle we drove further south to Kutná Hora where we visited the Sedlec Ossuary, or Bone Church. It was amazing how much the weather had changed over this relatively small distance - the day before with snow to blue skys and temperatures in the mid-20's C.
The Sedlec Ossuary was recommended to me by my friend Mark who had been to the Czech Republic a few years earlier, and it lived up to the expectations! The entire interior decor consists of human bones, put together to form wall decorations, candelabra, and other items.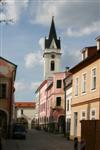 After grabbing a snack in Kutná Hora we headed onwards to the south of the Czech Republic towards the carp growing region. Our final stop of the day was the picturesque town of Třeboň where our first priority was finding accomodation. I was keen to stay in one of the spa's and getting a massage, but as it wasn't really tourist season they were all closed or weren't offering their full range of services, nevertheless they charged exorbitant rates for their rooms. So we kept looking and finally got to talk to the vendor of an ice-cream shop who said he knew of a good B&B nearby and would call the proprietor. This turned out to be a local cabby (who we suspect was related to the ice-cream shop owner) who drove us to his house lying 2 villages over. Despite our initial misgivings we decided to check in anyways as we hadn't found anything else.

We then drove back to Třeboň where we stopped at the Schwarzenberg Tomb on the way. This is a massive affair set in a large park - I wish I had such a place for my living days, let alone for my carcass!
In the evening we wandered around Třeboň for a little bit, even eventually finding the one street which seemed to have all of the official B&B's! For dinner we found a fish restaurant to try the local speciality of the carp.
---
Day 4 - Monday 2006.05.02

After a comparatively simple breakfast the next day we headed onwards to Český Krumlov, a very picturesque town in the south of the Czech Republic with an impressive castle overlooking it.

We spent most of the day wandering through the town and castle. For afternoon tea we settled in a cafe on a sunny roof terrace with a great view over the town and castle - the perfect spot to enjoy palačinky (yes, we did eat some other things too on our holiday!).

From Český Krumlov we drove onwards through the beautiful southern Czech scenery, stopping briefly at Kromberg Castle which was unfortunately closed. Our final stop for the day was in Zaton, a tiny village near the Boubin national park. The hotel we chose was Pension Ida, located a couple of miles out of the village in the middle of the forest. Apart from the landlady and a couple of cats we were alone - perfect Brother Grimm fairytale setting!

Before dinner, mum and I decided on a short walk through the national park recommended to us by the landlady. We didn't realise at the time that they have a different definition of short here and didn't get back until just on dark! Nevertheless it was a great walk. Mum kept getting excited about patches of snow still lying in the dense forest, and insisting on being photographed while standing in them.

For dinner we had a nice rustic goulash, dessert consisting of more palačinky! Afterwards we enjoyed the nice common room for a few hours and wrote some cards.
---
Day 5 - Tuesday 2006.05.03

The next day dawned bright and clear again and we headed off through the beautiful mountainous area of south-western Czech Republic towards Plzeň, on the way stopping for a few photos of the german Alps and flower-covered meadows.

Plzeň was really only of interest to us for the Budvar Brewery, which we found without trouble, and booked onto a tour. It was one of the better brewery tours I've been on, covering the history of the brewery and the beer as well as the making thereof. A rather frail-looking little old lady in her late 80's was our guide, but she was more than spritely enough for the tour. She put down her good health to the half-pint of beer she had with the guests during the tour! After the tour we enjoyed a hearty brewery meal in the beer house with, of course, more beer!
From Plzeň we made our way back towards Prague, unfortunately ending up in the evening rush-hour so I was a little late returning the car. It was also a culture shock to be back in a big city and finding our hostel with the car proved a little stressful after the relaxing countryside of the previous few days. Nevertheless we finally made it and checked in to our abode for the remainder of our holiday.

The evening we spent on a short walk through Prague, mostly looking for a place to eat which we found in a small side-street.