Introduction
With Isabel's last weekend in England coming up, I offered to take her up to Liverpool on my bike. She is an absolutely mad Beatles fan, and just had to go up and see all the Beatles memorabilia and sights before heading back home to Mexico.
Following then, is an account of our adventures as well as some pictures! Here're all of the pics.
---
Day 1 - Friday 2003.07.11
There's not much to tell about Friday.. basically I had a half-day from work, so after the obligatory lunch-time meeting which stretched well into the afternoon I went home and met Isabel there. We hummed and hah'd a bit then decided to get ready and head up to Liverpool tonight after all. We were a bit unsure about time and were considering leaving early on Saturday instead.
The ride up was pretty uninspiring - 5 hours on the highway, so not very interesting. When we got near Liverpool it got quite cool! We finally did arrive in Liverpool around 10pm, slightly lost. After cruising the streets for a bit we found our hostel - or at least, the hostel whose name I had written down. They ended up having spare beds so we stayed there rather than trying to find the other hostel.

Dinner was at the local McDonald's, which funnily enough was Beatles-themed. Isabel was quite excited about that fact, and very happy to have made it to Liverpool! We turned in to our respective dorms around midnight, as we had a full day of sight-seeing ahead of us in the morning.
---
Day 2 - Saturday 2003.07.12
Early up, the hostel actually offered a pretty decent cooked breakfast rather than the more usual orange coloured water and toast. Unfortunately they only had boys beds left for tonight, so we had to change to a new place, which isn't all that easy on a sunny summer weekend in England! Especially since I had to find a place which offered off-road parking for my bike as well. A few phonecalls over breakfast later, and we booked into a nice B&B a few streets away called the Aachen Hotel. The staff were very friendly and helpful with the bike and soon we were off exploring Liverpool!

First destination was Queens Square to find out about the Magical Mystery Bus tour - a Beatles-themed tourist trap which Isabel just had to go on! The morning tour was already booked out, but we got tickets for the afternoon one, so on recommendation from the Tourist Information Center we headed down to the pier and went on an hour-long cruise with a Mersey Ferry. This proved quite a nice way to see a bit of the city from the Mersey. From there we headed to the Albert Docks where Isabel went into the 'Beatles Experience' museum whereas I went to the 'Liverpool Live' museum where I lost track of time and nearly missed meeting up again for the bus tour.

The bus tour was pretty typical but quite good. It went to all the important Beatles-related sites around Liverpool - Penny Lane, Strawberry Fields, various houses and churches with a Beatles history - as well as covering some general facts about Liverpool. To be recommended, even to people who aren't die-hard Beatles fans (like me!).

The tour finished near the famous Cavern Club and Pub, where we stopped for a pint (or two) and chatted with Emily and Leanne whom we had met on the bus. Not long after the decision was reached to go clubbing together later that night. We also met another 2 girls in Club, one of which - Vanessa - went to my highschool!!!, albeit 4 years after me. Small world...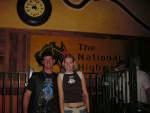 Clubbing was fun. Since none of us really had any clubbing clothes with us we ended up in the 'Walkabout', an Aussie-themed club chain which seems to be pretty big in England. As everyone knows, an Aussie's idea of getting dressed up is to get out the good thongs (flip-flops for those of you that think a thong is a piece of underwear!) and put on a fresh tshirt, so we had no problem getting in. Leanne and I as genuine Aussies had to keep laughing at the decor which included supposedly aborigine art and alligators on the 'Dunny' (toilet) roofs. A lot of the songs felt very retro, reminding us of the blue-light highschool discos! It was nevertheless a lot of fun and we stayed until closing time (2am, I think). Then it was time to head to bed as Isabel and I had a very long day planned for Sunday.
---
Day 3 - Sunday 2003.07.13
Another gorgeous day dawned so after a fairly quick breakfast a very sleepy Micha and Isabel got back on the bike. Our first stop was the Anglican Cathedral in Liverpool for a quick picture and poke around before the seriously long ride through Wales got undertaken.

First stop was near Conway Castle in the north-west corner of Wales near the end of the A55, which again was just a drive-by shooting. We would have loved to have had a bit more time and gone into the castle but one day is not enough to stop everywhere as well as getting through Wales on A-roads (mostly one-laned roads).

From Conway we got into serious countryside, following the A470 south through the gorgeous countryside of Snowdonia national park. Pictures can never show the real natural beauty and soaring vistas of this rugged moutain landscape. At times the areas we rode through strongly reminded me of British Columbia in Canada, although on a smaller scale.
We did not make a lot of stops on the way, and then mostly just for pictures, as neither of us really got hungry and we were a little pushed for time. Well after lunch we stopped in a small village called Carno and had a good stretch and drink in a sunny beergarden, thinking back on the beautiful areas we had just traversed. From there it on to Cardiff.

We arrived just on 6pm in Cardiff, and for a capital city, it was dead. Even Brisbane has more going on at 6pm on a Sunday afternoon! We ended up getting rolls from Subway and sitting in front of the Cardiff Castle walls for our dinner. From Cardiff it was a pretty grim stretch on the M4 back to London, both of us feeling quite tired and sore by now. But there was nothing for it but to grin and bear it, and a few hours later saw us pulling into the driveway triumphantly, still glowing with sunburn and the awesome weekend behind us.