---
Index
---
Introduction
The Plan
Preparations
The Diary
---
CANCELLED
Introduction
This year's Euro Star Days are being organised by the Stars Association in France. They'll be held from May 25th to May 28th and will be at a bikers-only campsite at La Plaine Tonique near Lyon.
Some of the Great Bears are heading over to the mainland to show our land-locked cousins that we haven't sunk beneath the waves just yet. So I decided that this was a great excuse to finally take my Draggy over to the Continent, not only for the Euro Star Days but also for a bit of a road trip.
Hence I will be starting off after work on Friday the 19th and won't be returning to our Island until the 31st. This will give me plenty of time before Lyon to drop in on some family near Cologne, take in southern Germany with a friend, and go to the North Atlantic Coast at Biarritz after the Bikermeet. The full trip-plan is laid out below!
Top
---
The Plan
As with all good things, there should be A Plan. This, then, is mine: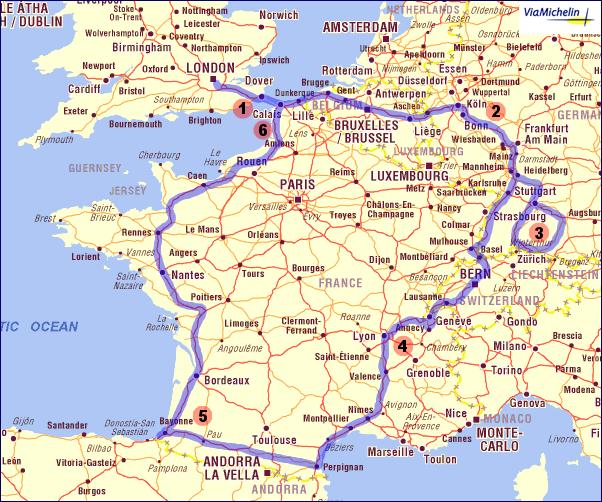 [Thanks to ViaMichelin for a great online map.]
Friday, May 19th - Saturday, May 20th
After work on Friday I'll be heading down to my Girlfriend's place in Canterbury ready to catch the ferry from Dover to Calais early on Saturday morning.
Saturday, May 20th - ~Monday, May 22th
I plan to spend a few days in Cologne/Bonn in order to catch up with family whom I haven't seen yet this year. From there I will ride down to
~Monday, May 22th - Thursday, May 25th
Heilbronn, and meeting up with Spacedani from the Deutsche-in-London forum. The plan is to spend a few days scooting around Germany's Black Forest and a circumnavigation of the Bodensee (Lake Constance). I'll then drop her back off home and continue on to
Thursday, May 25th - Sunday, May 28th
Lyon where I will spend the next few days at the Euro Star Days, camping. Here I will also meet up with the other Great Bears from the UK. Some of us will continue on to
Sunday, May 28th - Wednesday, May 31st
Biarritz for a long slow cruise along Frances' North Atlantic Coast. This will eventually lead me back to
Wednesday, May 31st - Thursday, June 1st
Calais in time for my ferry crossing back to Dover, where I will again spend a night at my Girlfriends' place. From there it's back to London for a clean-up (both Man and Machine) before a long weekend to Bakewell.
Top
---
Preparations
Here is a list of things which will need to get done before the trip:
Servicing

Basic Service - DONE
Rear Tyre and brakes
MOT
Adjust Headlight for Europe

Organise Europe Breakdown Cover
Check/renew Insurance
GPS Mount
Top
The Diary
Here will be my trip diary..
Top