---
Index
---
XS250SK
XJ900
XVS1100a
---
Yamaha XS250SK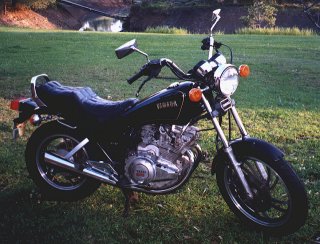 This was my first bike, which I purchased privately. It was very much pre-loved, and the previous owner only took it out for weekend trips during fine weather, and this was very obvious - the bike was in excellent condition despite being over 10 years old!
I used it to commute daily to and from work, a round-trip of nearly 80km. It was very reliable, but I was also quite meticulous about getting it serviced regularly.
I took it on a couple of longer trips as well, but the small engine capacity meant it had to work fairly hard for those, nevertheless it did a fair job, and with backpack and tankbag I got a fair bit of gear on it.
---
Yamaha XJ900