Introduction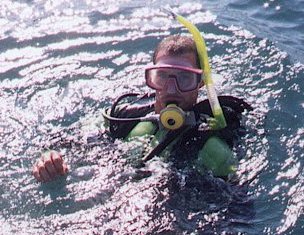 I'd been thinking about trying diving for a long time when finally an opportunity presented itself in 1998. I was on a roadtrip with my dad and a couple of uncles and amongst other things, we went on a daytrip to Lady Musgrave Island on the Great Barrier Reef. On that trip, I did a half-hour introductory dive (with no qualifications) and it was awesome. The divemaster told me afterwards he rarely sees newbies who are so relaxed during their first dive!
Then in Late August, early September 1998 I went to a 2 week holiday in Darwin to visit a good friend of mine, Glen, who was working there for a while. Darwin is the capital of Australia's Northern Territory, and is about 4 hours by plane from Brisbane.
While there, I did a NAUI diving course with Coral Divers, which was absolutely brilliant! I very much enjoyed the course, which included several wreck dives to 18m depth, two drift dives over sandy coral gardens and a couple of training dives from the beach and in a natural rock hole.
Since then I've been on a few dive-trips, the highlight so far was Indonesia. I've also done my Advanced Open Water course and a Wreck Specialty course.
Unfortunately I haven't done any diving since moving to London apart from 2 short dives in Malta in 2005, as it's just too cold around here!! I suppose I should get my dry suit qualifications.
Qualifications
Following are my diving qualifications:
1998.09.03 - NAUI Scuba Diver - Coral Divers, Darwin
2001.06.01 - NAUI Advanced Scuba Diver - Blue Zone Scuba, Brisbane
? 2001 - Wreck Diver - Blue Zone Scuba, Brisbane
2014.12.21 - Enriched Air Diver (PADI) - Mike Ball, Cairns, QLD
Dive Locations
1998 - Lady Musgrave Island, Australia - introductory dive
1998 - Darwin, Australia - various 1-day trips after my course.
1998 - Indonesia, Flores Island - 1 week dive trip with my class from Darwin.
2001-2002 - Brisbane - various 1-day and weekend trips.
2005 - Malta - 2 short dives with Divewise while on a work trip.
2014 - Great Barrier Reef - 1-week Mike Ball live-aboard dive trip near Cairns, Australia.
2015 - North Stradbroke Island, QLD - various boat dives.
2016 - Stradbroke Island, QLD - long weekend with Tatiana learning to dive.